As I sit here on the last night of my Scrapbook Retreat, it is WAY to late to be up, but I wanted to post my first sketch reveal with Pink Sketches!!!  I decided to do a digi layout this time.  It is something different and it always helps to polish up on my digital skills.
*FARMERS MARKET*
 This is us in Los Angeles, visiting the Farmers Market.  All the products used in this digi layout are from Shabby Miss Jenn's. I used a combination of two of her kits...this and this.
Next up is Mon Ame Memories Spring Fling Crop!  Here are the details!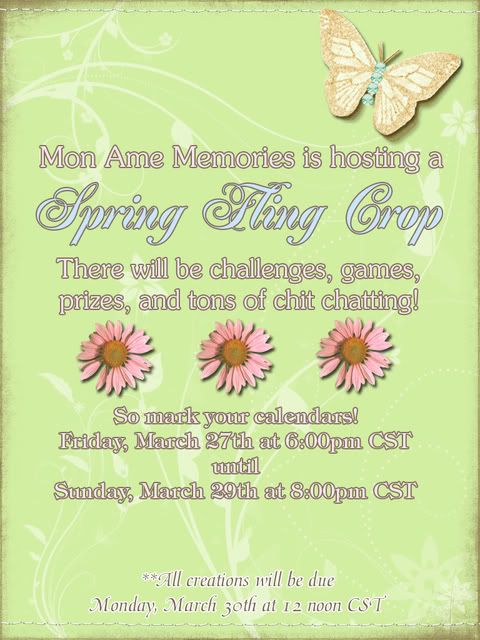 This crop will be loads of fun and will be my first over at Mon Ame Memories. I can't wait!!!
All the girls here at the retreat this weekend have had a ball!  I have made new friends and had that much needed "girl time."  I got SO MUCH done and will be posting my layouts throughout this week! So stay tuned!
***On a personal note, please pray for my dear friend Stephanie who lost her father yesterday to a rare lung disease.  It was somewhat sudden and my heart aches for her and her family.  Please keep them all in your thoughts and prayers.